The first community event hosted by SCCF was the Sarratt Freshers's fair in November 2017.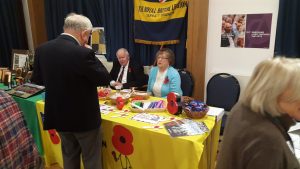 A Great Success  ….
The community of Sarratt has some 35 clubs and organisations quietly getting together in the midst of every day life. The Freshers' fair was initiated by the High Sheriff of Hertfordshire 2017- 2018 Will Hobhouse who also happens to be a Sarratt resident.
The event was a huge success with the Village hall fit to burst with all ages and enthusiasts from Sunrise toddler care to Sarratt Care ( Sarratt Seniors). It was a real testimony to the fantastic village spirit evident in the Parish. The event itself was a first for the community, there had never been before a gathering such as this.
Clubs and groups could share what they get up to and gather new members and volunteers. The visitors were treated to free Prosecco and many tasty treats from the various stands in the hall. Even the Sarratt Vintage buses were there.
See below the Sarratt Spotlight report………
Brainchild of the High Sheriff Will Hobhouse and organised by the tireless Angela Coakley  November's Freshers' fair was hailed by all who took part a great success.
Royal British Legion – Sarratt Branch
What a wonderful evening at the freshers' fair. The Poppy Appeal raised £95: and we thank all who contributed.
We were pleased to see a lot of villagers and happy to be part of a very successful evening.
We would like to place on record our thanks to Will Hobhouse and Angela Coakley for organising this event and for their continued interest in the voluntary organisations of Sarratt.
Roy and Margaret Eteen.