Community cafes are more than just a place for a decent (and not over-priced) cup of coffee. They are about bringing people together, and are usually run by volunteers.
Sarratt now has it's own Pop up Community Cafe and it is Open to All. A new initiative that has been warmly welcomed by the local community.
A once a month pop-up Cafe has been running since September 2018. The friendly team of volunteers have been happy to see all ages popping in, sharing conversation, cake and good coffee.
Building stronger community together, creating networking opportunities and getting to know our neighbours! 
Just some of the visitor comments….
Such a wonderful warm welcome. Plus such delicious mouthwatering cakes.Everyone so friendly, really nice atmosphere, great start to the week. Howard Rush.
"Best Carrot Cake Ever!! " Ann Day.                                                    Really lovely, the kids and I thoroughly enjoyed it.                                                                                                                              Fantastic cake. Hayley Gilmore.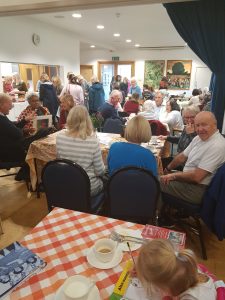 Friendly, full of atmosphere, lots of people to chat to. Well done!
 Ron and Jacky Creed.