When we are living through such challenging times it is important to help ourselves stay calm and well.  Walking in nature is proven to be a very good tonic for our mental well being.  The sweet sound of the birds seems louder than ever, it is as if the birds are singing their very best and loudest to cheer us.
The air smells so sweet and the sky is quiet. The sound of nature all around is for the first time in a very long time dominant. The natural world is unperturbed by what is going on and gently nurtures us if we let it.
Now is the time for bluebells and our kind neighbours at The Old Rectory have opened the gate to share their wonderful wood with us all at this time. "Thank You!!" from us all.
We are encouraged even with the current 'Stay at Home' directive to take some daily exercise, so we can take a stroll each day to help us through this, the most strangest of times. Keeping the safe distance of two metres between us of course. If you do visit Will's woods please, keep your dog on the lead, no playing in the bluebells, stick to the paths and remember your personal safety is your own responsibility.    Click here to see the  map bluebells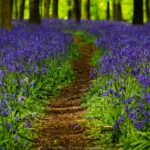 Native bluebells are protected by the Wildlife and Countryside Act 1981. You can help protect native bluebells by keeping to the path on your woodland walks. The delicate plants are easily damaged which can affect future growth.