Sarratt Mums' Babies and Toddler Group
January 2020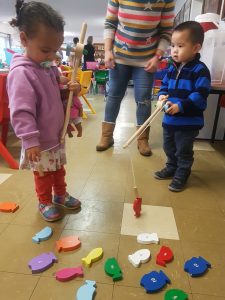 To SCCF,
I would like to thank you for your generous donation to our group.
The Mums' babies and toddler group has been running for about 25 years. I feel it is a
valuable asset to our village, not just for children but for the Mums' and Carers too. It is
important for them to have somewhere to meet up and make new friends.
With the money, we have been able to replace all the childrens' cups ( they were quite
old).  We have bought three new dollies for our home corner, playdough and a lovely
wooden fishing game which will help with their hand and eye coordination and help
them learn their colours.
With the rest of the money we want to purchase a big wooden Brio Train set and have it
set onto a board.
Thanks again on behalf of us all,
Daphne Tyler