The Parish is POSITIVELY over flowing with talent !!!
SCCF invited local artists to exhibit their work in the Village hall in November 2018.
Some 30 local artists arrived and filled the Sarratt village hall. The age range spanned from six years old from the village school to ninety two a local Chipperfield gentleman. The afternoon exhibition was a triumph with many people coming in to view the great variety of work on display.
The event was buzzing with real community spirit as exhibitors shared their experience and knowledge with one another and first time exhibitors had a sense of the tremendous support on offer to them. Friends were made and the whole event was a tremendous networking opportunity.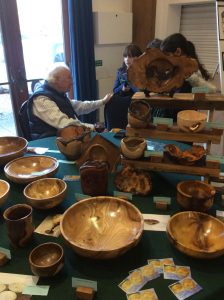 A terrific turnout and another successful SCCF Community event!
Really lovely afternoon. What a great turnout!
Would love to do it again.
Thank you                                                 Thank you back for initiating the pop-up art show and communicating so well throughout.  I really enjoyed it.
Just wanted to thank you for another organisational triumph!
                                     I had a lovely afternoon at my first exhibition. Everyone was so nice and gave me some great advice. Many thanks for all the hard work that you guys did putting it on.
      Many thanks to you and Clare for doing an amazing job and thanks to all the lovely people that lent me props and advice – much appreciated.
Thank you Angela for inviting Berry Lane Art Group. Lovely atmosphere, the cakes ❤️
and really enjoyed seeing the other artists work .
We are up for it if you do another one !
Really well organised event .
Our thanks go to Barnaby Jackson for sharing his painting with us for this event update.